Prayer is central to all that we do at EVC Uganda and we encourage our supporters to pray for the success of our work.
'The prayer of a righteous man is powerful and effective', so writes James in chapter 5 verse 16 of his letter. So a small group of us meet together on the last Wednesday of each month for a time of worship, prayer and updating, bringing the work of EVC to the Lord and asking for Him to cause our work to grow and be successful.
We would love to see this group increase in size and, for any who are able, to join us in these times. We meet for just over an hour at 8 pm at Our Lady of Ransom RC Church in Kempston every last Wednesday of the month. Please see the blog post about our prayer meeting for further details.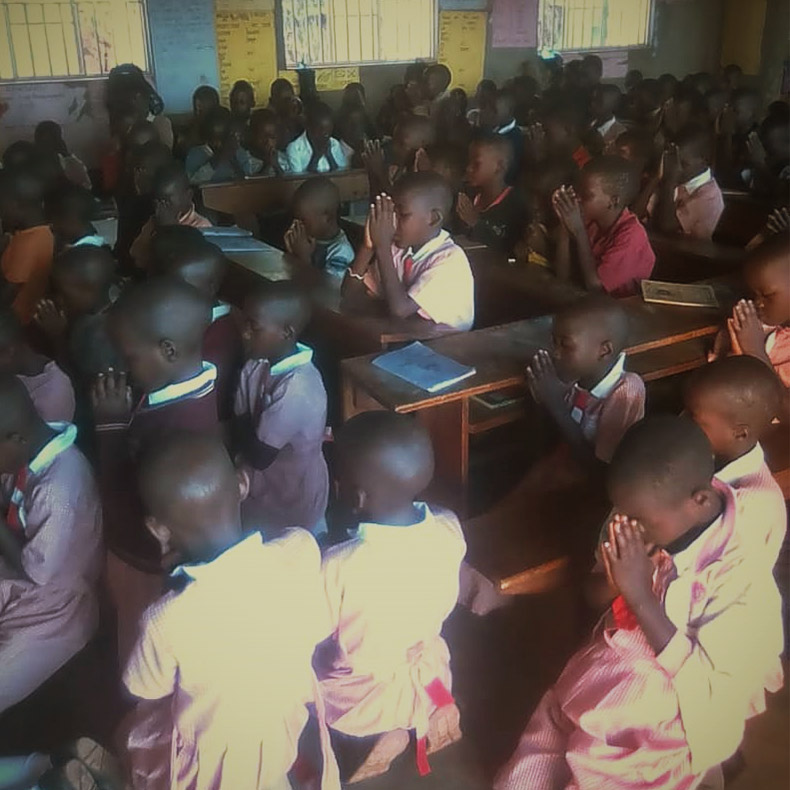 If you are not able to join us but are willing to pray, please use the prayer requests below as a help and guide for your prayers:

This Months' Prayer Requests:​
| | |
| --- | --- |
| 01 Dec | The children will be leaving school soon for the long school holiday. Please pray for a good time with family and friends. |
| 02 Dec | Pray for the staff of the schools that they will be refreshed by the break away from school. |
| 03 Dec | Pray for Father Boniface and all his parish responsibilities, particularly during this busy Advent season. |
| 04 Dec | Pray that Jesus would continue to be at the centre of all we do, guiding, leading and directing us. |
| 05 Dec | Give thanks for the success Jesca and Brenda have had in their final exams in Business School. Pray for them as they seek God's guidance regarding future studies. |
| 06 Dec | Pray for those students who are in further education, at university and midwifery school. |
| 07 Dec | Pray for the appeal in Harefield this weekend and for Judi as she speaks. |
| 08 Dec | Pray that God would touch hearts and that the congregations will give generously to support our work. |
| 09 Dec | Thank God for the appeals already secured for 2020. |
| 10 Dec | Pray for Ted as he seeks further openings for appeals in new churches during 2020. |
| 11 Dec | Continue to pray for Gordon Lland as he oversees plans for the new building work which needs to take place in both primary schools. |
| 12 Dec | Pray for Father Boniface as he looks to recruit a project manager to oversee the building work in Uganda. |
| 13 Dec | Give thanks for all that God has done since the charity was formed in 2014. |
| 14 Dec | Continue to pray for Phil Lland as she contacts churches where appeals have been held, that she will be able to ascertain how we can best keep them informed of what is happening. |
| 15 Dec | Pray for good health and stamina for Father Boniface in all his responsibilities. |
| 16 Dec | Continue to pray for Margaret and Gonzaga as they administer the work in Uganda. |
| 17 Dec | Pray for our sponsored children that they will develop positive attitudes towards studying and seek to give of their best. |
| 18 Dec | Pray for all support staff in the schools, cooks, security staff and matrons. |
| 19 Dec | Give thanks for the partnership with Workaid and pray that the shipment going to Uganda will arrive quickly and safely. |
| 20 Dec | Continue to ask God to provide the large amount of funds needed for the proposed building projects. |
| 21 Dec | Pray for success for Andy and Gordon submitting bids to trusts and foundations for larger sums of money. |
| 22 Dec | Ask for God's guidance in all areas of the work. |
| 23 Dec | Continue to give thanks for all our volunteers and trustees, for the work they do and the time they give. |
| 24 Dec | Pray for those students who have no family to return to over Christmas, that they will specially know God's love and care for them at this time. |
| 25 Dec | 'and she will give birth to a son, whom you will call Jesus ("The Saviour") for it is he who will save his people from their sins.' |
| 26 Dec | Pray for Ted, that he will be guided by the Holy Spirit in all major decisions for the charity going forward. |
| 27 Dec | Thank God for our donors and the very special care they show towards our children. |
| 28 Dec | Pray for parents in Uganda that they will understand the importance of education. |
| 29 Dec | Pray particularly for the parents and guardians of our children that they will support their children in school as best they can. |
| 30 Dec | Pray for Gonzaga and Margaret as they reinforce these values within the community. |
| 31 Dec | Thank God for his many blessings on the work of EVC during 2019. |
---
"In all your prayer and entreaty keep praying in the Spirit on every possible occasion. Never get tired of staying awake to pray for all God's holy people."
(Ephesians 6:18)